Consulting and advisory services
The KIDV offers a range of consulting and advisory services in order to make your packaging more sustainable.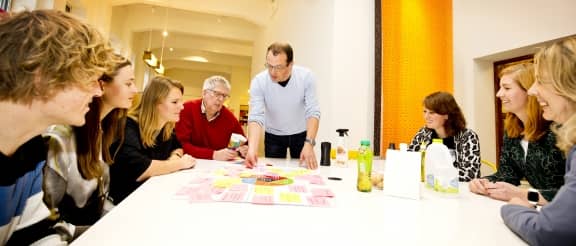 Why advice on sustainable packaging?
When it comes to sustainable packaging, the development of product-packaging combinations involves more than just the use of less or different material. KIDV looks at the entire life cycle of the product and its packaging, from the use of (raw) materials to the logistics process and from consumer behaviour to the disposal phase.
KIDV offers consulting and advisory services to support you in this process and to help you make the right choices. Depending on your issue, a range of consulting options are available. We estimate which approach best suits your situation.
What to expect?
Firstly, an exploratory (telephone) conversation is held in order to match expectations. Thereafter, we agree on whether a relatively compact form of knowledge sharing is possible - which requires less effort for you and your colleagues - or whether a more intensive process will be set up.
In the case of a compact consultation, you can think of a session with your company's employees, during which we take a closer look at a few packaging types in just a few hours. Our packaging experts discuss the strengths and weaknesses from a sustainability perspective. It is also possible to organise this session with a delegation of various suppliers.
In the case of a more thorough issue, packaging experts from the KIDV analyse and assess selected packaging in advance. They identify opportunities and priorities. This results in a recommendation to put sustainable packaging (further) into practice. The analysis takes your organisation's brand strategy and policy into account. The primary focus is on the Dutch situation, but we can also refer to the international situation. The results will be discussed afterwards with an interdisciplinary team of your company (e.g. packaging design, marketing, purchasing and sales).
Both consultations are explicitly meant to help you on your way and to speed up the process of sustainable packaging in your organisation. We will help you choose your direction, but we will not carry out your project. However, we can refer you to one of our partners who can help you a step further. The KIDV works together with partner organisations with knowledge and experience in the field of sustainable packaging. Click here for our partners.
Testimonials
"KIDV knows what's going on and helps to get everyone within your organisation on the same page. By looking at product-packaging combinations at a detailed level, it became clear to us that we can take more steps in the right direction."
Leendert van Bergeijk, manager Corporate Social Responsibility A.S. Watson Health & Beauty Benelux

"Our session with KIDV provided us with many insights on sustainable packaging in a short period of time. We are using these insights in the development of future packaging and, when possible, in adapting already existing packaging."
Judith van Voorthuizen, packaging technologist Remia

"The world of vegetables and fruit is very fast and dynamic. Together with KIDV, we have laid a good basis for further development. That was also our goal: we wanted to share information with our packaging companies in order to create awareness and to take sustainable packaging to the next step."
Mark Versluis, supply chain manager Harvest House
Requests
Our consulting and advisory services are free of charge. Are you interested and would you like to know if you qualify? Please fill in our question form and we will contact you as soon as possible.