Update 2023 KIDV Recycle Check Flexible Plastic Packaging
Publication date:
September 26, 2023
When necessary, the KIDV Recycle Checks are updated. In August, KIDV published the 2023-version of the Recycle Check for flexible plastic packaging. As of today, this 2023-version is also available in English. Producers and importers can use the Recycle Check relatively easily to test the recyclability of their flexible plastic packaging.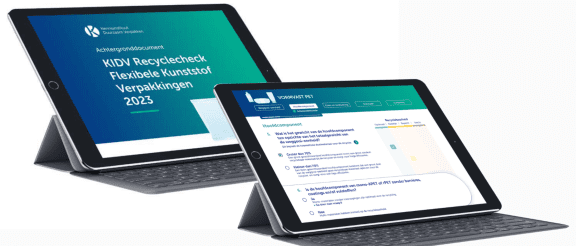 The design and format of the Recycle Check has been renewed. For example, the new format clearly distinguishes between different types of plastic, namely PE, PP and other flexible plastics. For each type of plastic, a separate checklist is available. A background document provides additional information and explanation of the checklist questions.

Users can select the correct answer for each packaging question. The results are processed automatically, and this leads to the rating of the packaging (good, reasonable, limited or non-recyclable). A summary of your data and outcomes can be saved as a pdf and shared with colleagues or other stakeholders. Users can also directly consult the other KIDV Recycle Checks when parts of the packaging consist of paper, glass or metal.
Main changes
Below are the main changes to the Recycle Check for flexible plastic packaging, compared to the previous version.
The requirement that the packaging had to be at least of A4 size to come out as 'good recyclable' has been dropped. The sorting processes have been modernised, so that in most cases smaller formats can now also be sorted and recycled properly.
Flexible packaging smaller than 50x50 mm was classified as 'non-recyclable' in the previous version of the Recycle Check. This has been adjusted in the 2023 version. Packaging larger than 30x30 mm can increasingly be properly sorted and recycled.
Barrier layers (e.g. EVOH, SiOx and AlOx) affect packaging recycling to a limited extent if applied in low concentrations. Those types of packaging can score 'reasonably recyclable'. This also applies to metallisation, as long as this layer is not visible on the outside.
Small rigid components of the same material as the main component are no longer considered disruptive to the recycling process.
Packaging made of PP can score maximum 'reasonably recyclable', as it is still only recycled in limited quantities.
Other flexible plastic packaging that does not consist mainly of PE and/or PP can score maximum 'limited recyclable', because they are not sorted into a separate mono-flow. As a result, they mainly end up in the mix stream, often together with rigid plastic packaging, multi-materials that are difficult to sort and black packaging.
A foil, wrap or sheet with different materials on both sides, can score 'reasonably recyclable' at best.
The background document contains tips to minimise product residue and the amount of ink and adhesives.
Click here to access the KIDV Recycle Check Flexible Plastic Packaging.