Ambitious plan for sustainable packaging in out-of-home sector
Publication date:
January 15, 2020
A group of frontrunning companies in the 'out-of-home' sector will be taking concrete measures to make packaging more sustainable and reduce litter in the coming years. In collaboration with KIDV they have drawn up a sector innovation plan for sustainable packaging in which they describe their ambitions and targets for reducing the environmental impact of packaging.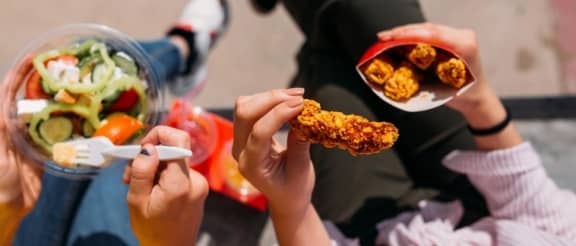 One of the aims is not to use unnecessary packaging and to use packaging materials that are reusable and/or recyclable. They also want to use less packaging and single-use products such as straws and disposable cutlery. They are also looking at better collection and recycling systems for their packaging. Various studies and pilots on these subjects are announced in the sector innovation plan.
The sector plan was published today by the Netherlands Institute for Sustainable Packaging (KIDV). Last year, the KIDV also published seventeen sector innovation plans for sustainable packaging from other sectors and sector organisations. The out-of-home sector was not yet included. "This sector is made up of organisations that differ greatly from one another: from small cafeterias to large restaurants and from various to-go shops to recreation and amusement parks. There is no sector organisation for this sector", explains project leader Marc Reijnders of the KIDV.
Collective
Last year, the KIDV brought together a number of frontrunners and found Koninklijke Horeca Nederland willing to facilitate the development of the sector plan. This has resulted in this plan, to which more than fifteen parties have committed themselves. Reijnders: "Even though the companies that developed the sector plan differ from each other, they do have the same challenges to meet, for example, legislation and regulations, such as the European Directive on the banning of single-use plastics (SUP) or other agreements, such as the Dutch Plastic Pact. The parties are convinced that they can achieve more collectively. They call on their counterparts from the out-of-home sector to commit themselves to the sector plan and together take steps towards a circular economy for packaging".
The out-of-home sector strives for a circular system in which food and beverages can be consumed out-of-home and on the road in a responsible manner. The sector innovation plan sets targets for 2022 and 2025 to use less packaging and packaging materials (reduction and reuse), to be conscious of raw materials (resource) and to recycle better. In the near future, single-use packaging must all be made recyclable, or they can be fermented and/or composted. In addition to standard packaging, ambitions are also set for typical on-the-go packaging and single-use products (e.g. bags, napkins, plastic cutlery).
Lines of action and targets
The sector innovation plan mentions different lines of action to achieve the goals and different end-of-life scenarios are examined to achieve an optimal circular system. Examples of this are the research (2020-2021) into source and post-separation of waste streams and the research into a joint approach to the collection and recycling of specific, difficult-to-recycle out-of-home packaging. In this context, research is already started into the possibilities of turning used paper coffee and tea cups into new products.
In order to achieve the targets for increasing the use of reusable packaging, a number of companies from the collective will join the KIDV's Community of Practice Reusable Packaging. In order to inform (smaller) cafeterias and snack bars about the SUP-directive and other sustainability possibilities, KHN will soon publish an infographic on this subject.
Ambitious
The sector plan has been assessed by the KIDV Committee of Independent Experts. The Committee states that the sector has set ambitious goals to make packaging more sustainable, particularly in the field of prevention. Doing so, the sector is going against the general trend of more food packed in portable and small packaging.
The companies that have contributed to the sector innovation plan for sustainable packaging of the out-of-home sector are: Domino's, Landal GreenParks, McDonald's, Shell Nederland Verkoopmaatschappij, Coffeecompany, La Place, FEBO, HEMA, Albert Heijn to go, FFC (Délifrance/Kwalitaria), HMSHost, Vermaat Groep, Albron, Efteling, Walibi Holland and Burgers' Zoo.
Click here for the Sector Plan Sustainable Packaging 'out-of-home' 2019-2022 (only available in Dutch).
Click here for the Assessment Report of the Committee of Independent Experts of the KIDV (only available in Dutch).