KIDV researches the recycling of coffee cups
Publication date:
February 13, 2020
What is the best way to collect and recycle discarded coffee cups and other disposable paper cups so this waste stream can serve as a raw material for other products? KIDV conducts research in collaboration with brandowners in the out-of-home sector.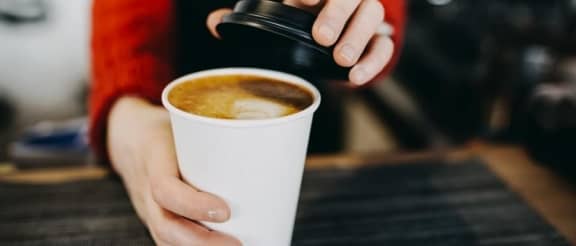 In the coming months, pilots will be held with various paper recyclers, sorting companies and waste management companies.
Almost all plastic-coated paper cups in the Netherlands are thrown away with the residual waste and then end up in the incinerator. A report on this subject in the TV programme De Monitor led to Parliamentary questions this week. "Recycling is technically possible, as shown by projects in England and the United States, for example," says KIDV projectmanager Marc Reijnders. "The challenge in the Netherlands is to get a sufficient quantity of sorted cups, with minimal pollution, to the right place for further processing. The quality of the collected cups is an issue. Often, to much contamination is found in the form of drink and food waste. Then the cups are rejected by the recyclers and still burned, while they can be successfully reprocessed into products again".
The collective of brandowners - including Hema, Albert Heijn, NS Stations, Selecta and McDonald's - has been set up to identify possible recycling routes and application possibilities. For examples in new paper and cardboard products or building materials and other fibre materials. In this project we also look for possible applications of the remaining plastic fraction (PE).
In the first phase of the project, tests were carried out on a small scale at recyclers. In order to be able to draw up a business case, pilots with larger volumes will be held this spring. These should provide knowledge about the different recycling destinations, collection and sorting strategies. "We focus on three scenarios: 1) the current situation (what is the best solution now?), 2) the possibilities in the short term and 3) the future situation. You might think, for example, that the recycling industry is building special installations to process this type of cups and other coated paper packaging," says Reijnders.
In order to obtain sufficient volume, it is being explored whether - and how - institutions that also use many drinking cups (such as care, educational and government institutions, caterers and company offices) can join the project. Ultimately, the study should give companies and institutions that wish to have disposable cups recycled sufficient scope for efficient collection and sustainable processing of the cups.
The study is scheduled to be completed in June. The project is financially supported by Stichting Afvalfonds.