Chemical recycling of plastic packaging materials: possibilities for upscaling
Chemical recycling of plastic packaging is promising for the Netherlands.
Chemical recycling of plastic packaging is promising for the Netherlands. With this new form of recycling multiple plastic waste flows can be recycled in the future. However, chemical recycling also has several challenges. The Netherlands Institute for Sustainable Packaging (KIDV) made an analysis and mapped the possibilities and actions to upscale the chemical recycling of plastic packaging in the Netherlands.
In the analysis there has been looked at possible input flows, climate impact, costs, investment and barriers in policies and regulations. To upscale chemical recycling, much remains to be done. The KIDV distinguishes six steps with corresponding actions that are needed for upscaling.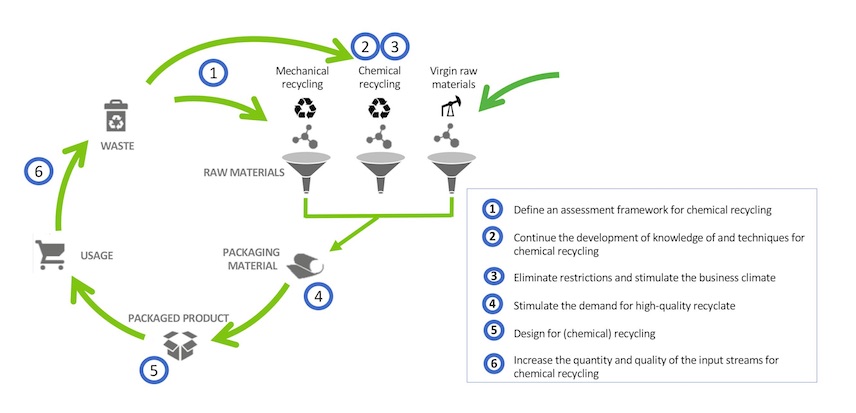 First, it is important that all parties involved use the same definition of chemical recycling. In addition, it asks for knowledge exchange between the waste sector and the chemical industry to put together the technical challenges. The analysis also shows that the government with incentives for commodity chemical recycling aimed at conservation and climate profit, can contribute to the upscaling of the techniques.
Also packaging businesses can play an important role in the upscaling of chemical recycling, including to use the recyclate for new packaging. In addition, companies and designers can take this form of recycling into account at the design of new packaging by for example the use of interfering substances.
The costs and gross profit of chemical recycling rely heavily on the scale of the process, costs, quality, the supply security of the input flows and the marketing rate of the recyclate. Chemical recycling goes beyond packaging waste and can also be used for recycling of other plastic products.